Since Apple has just published a new version of the iOS 16 developer beta, it is possible that the public beta for iOS 16 may become available in the very near future. The third developer beta version of iOS 16, which can be downloaded from Apple's website for developers, adds many new capabilities to the iPhone that were not included in prior versions of the program.
However, before that public beta is released, Apple released the latest developer beta, which includes some updates and additions to the software that runs on the iPhone. These include the introduction of an entirely new feature, as well as the entry of some features that were first talked up throughout Apple's preview of iOS 16.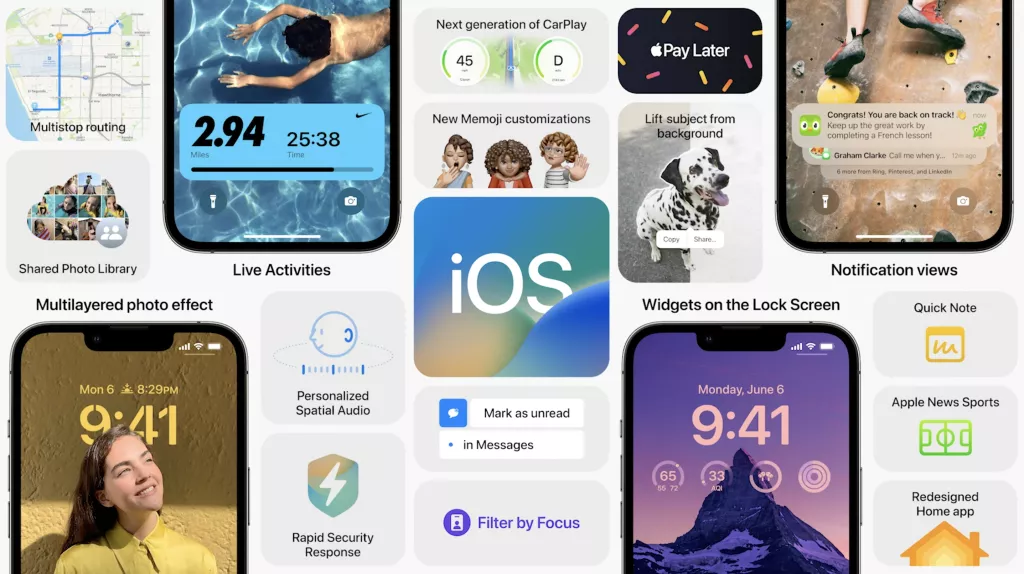 A history of AFib may be found in the Health app
AFib history is another feature that Apple has promoted but did not include in earlier beta versions of iOS 16; it monitors atrial fibrillation by collaborating with an Apple Watch to determine when a person is experiencing abnormal heart rhythms and their duration. This feature was not introduced in earlier versions of iOS 16 beta. The functionality is currently available inside the Health app; but, in order for it to function properly, you need also require the most recent beta version of watchOS 9.
Personalize the lock screen
Your iPhone's time and date may now be shown in a font of your choosing, thanks to a new feature introduced in iOS 16 that, as you're probably aware, gives you the ability to personalize the appearance of your lock screen for the first time ever. There were six distinct font selections available in early betas of iOS 16, however, as of the third developer beta, there are eight different font options available.
Furthermore, one of the lock screen widgets that Apple offers has been updated to reflect the latest changes. When your iPhone is locked, the calendar widget will now hide information about your impending appointment; this data will become visible after you open your phone.
The Lockdown mode of iOS 16.
One of the most notable new features included in iOS 16 beta 3 is a function that Apple had not previously mentioned. The new security feature for the iPhone, which is being marketed under the name Lockdown Mode, is designed to provide protection for customers who are at risk of being targeted by malware.
Additional changes made to iOS 16 developer beta 3
That is not a comprehensive list of all of the changes that have been made in iOS 16 beta 3. You now have the option, thanks to a new feature in the Reminders app, to include tasks in the badge count that shows above the app's icon that are both due today and have already passed their due date. You may notice some changes to Stage Manager if you are running the beta version of iPadOS 16, such as an enhanced multitasking menu as well as a window picker for applications that have many windows. These modifications were made in response to user feedback.
Bonus: Back to the origins
You may recall the clownfish wallpaper that was shown when Steve Jobs demonstrated the very first iPhone. During the subsequent 15 years, the wallpaper has been nowhere to be seen, but that is supposedly about to change with iOS 16. Even though it has not yet been sent out to all users, there are reports that wallpaper customization is now available in the beta 3 version.
Has anyone else noticed this in iOS 16 Beta 3? pic.twitter.com/ywiC0MsfJr

— Jack Roberts (@jacklroberts) July 6, 2022
How to obtain access to the third developer beta of iOS 16
In order to use iOS 16, you will need an iPhone 8 or later. Both the complete list of devices that are supported by iOS 16 and the procedures for downloading the iOS 16 developer beta are available on our site. To put it more simply, in order to get this new version, you will have to be a registered developer with Apple, which requires a one-time payment of $99 in addition to an annual charge.
To put it more simply, in order to get this new version, you will have to be a registered developer with Apple, which requires a one-time payment of $99 in addition to an annual charge. Not only will the iOS 16 public beta feature a greater number of bugs that have been fixed, but it is also available for free download by everyone.
If, on the other hand, you already have the developer beta, all you need to do to update to the most recent version is launch the Settings app, go to the General section, and then choose Software Update from the menu that appears.