This November, Game Hollywood proudly launch an exciting new platform at GameHollywood.com – "Game Hollywood Games". The platform unifies their diverse and exciting range of games under one roof. Along with this new platform comes a unified game login system and two new games: MiliGirls Fantasy and Scarlet Fate. Amazing Launch Giveaway available!!! Hurry up & join to discover fantastic games!
https://www.gamehollywood.com/activitys/codeIndex.action
The New Game Hollywood Platform
Game Hollywood is the celebrated publisher of popular flash games such as DDTank and Wartune. As of now, all of Game Hollywood's collection of RPGs, casual games, browser games, mobile games, MMOs, and more can be found and located in one central location Game Hollywood Games. A new unified login system means that fans of these games, new and old, can access them all with a single login.
Their legendary portfolio of games includes acclaimed titles with a global audience, such as MMORPG Dragon Awaken, strategic turn-based RPG Eternal Fury, high-fantasy war game The Third Age, and not forgetting the post-apocalyptic mayhem of Survivor Legacy. And that's just to name a few.
The new platform will also serve as an information hub for all of Game Hollywood's games, including their mobile releases. It will be the new one-stop-shop for all the latest news, events, guides, and info for all of the games that players love.
The New Games
To celebrate this historic moment for Game Hollywood, two new games are joining the roster:
MiliGirls Fantasy
MiliGirls Fantasy is set in a world on the verge of destruction, only the waifu Miligirl Army can turn the tide. As commander of the Miligirl army, you must lead the girls to a brighter future. MiliGirls Fantasy is a PC and mobile 2D shooter that mixes in idle game, SRPG, and gacha elements. Players must choose the perfect lineup, slash through bullet-hell, and destroy the forces of evil. The official YouTube channel hosts trailers and more.
Scarlet Fate — Knights of Fantasy 2
The original Knights of Fantasy game was a beloved and cult title back in its golden era. The sequel looks to surpass it in style, beauty, gameplay, and graphics. Scarlet Fate — Knights of Fantasy 2 will stay true to its roots – it will be a colourful and charming anime RPG featuring idle strategy gameplay and real-time battles. Once more, only the most cunning of leaders will be able to summon the correct heroes required to guard justice against the evil of the world.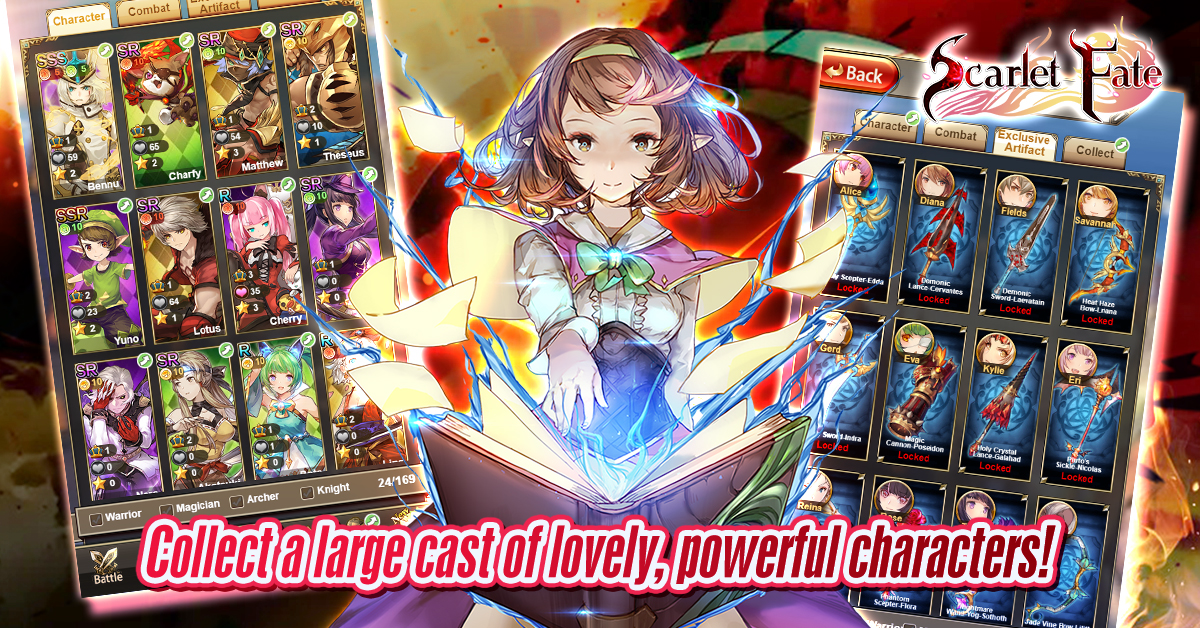 About Game Hollywood
Game Hollywood Interactive Limited (Stock code: 2022.HK), better known as Game Hollywood, is a Hong Kong based games publisher bringing Chinese developers' games to a global audience.
As well as helping Chinese game developers penetrate international markets with one-stop solutions, game redesign, optimization, marketing, distribution, monetization, and other user-related services, their own in-house mobile development capabilities are fast growing.
With a diverse selection of mobile and PC games ranging from casual to hardcore, Game Hollywood's titles appeal to a broad audience. With the new platform, Game Hollywood Games going live, players can enjoy all of these titles with a single account. It's never been so easy to enjoy Game Hollywood's games.
For Media Enquiries
Website: https://www.gamehollywood.com/
Contact: Philip Yu
Email: [email protected]