In the next live-action Barbie film, Ryan Gosling will play Ken. For decades, Barbie has been Mattel's best-known toy line, but now the company is making a foray into the entertainment industry. A live-action Barbie film has been attempted several times, with Amy Schumer originally set to star. Greta Gerwig, the director of Little Women, was brought in to oversee the production and Margot Robbie was chosen to be the new face of Barbie.
While early skepticism about what a Barbie movie might be about was understandable given how little information was available, the project's updates have continued to alter expectations. Audiences began to reassess the movie's direction as soon as the first picture of Oscar-winning actress as the famous Barbie doll appeared online. This film has a stellar ensemble that includes Ryan Gosling as Ken, Robbie's Barbie's longtime love affair.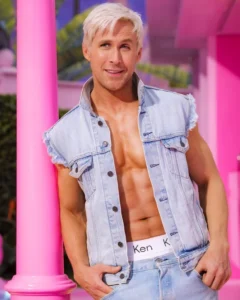 This is the first peek at Ryan Gosling's Ken in the upcoming Barbie film, which was released by Warner Bros. This photo of Ryan Gosling, who has been nominated for two Academy Awards, shows off his great body with a short jean jacket and bleach blonde hair. It's hard not to be impressed by Ryan Gosling's naked depiction of Ken after the success of Robbie's first appearance as Barbie. The design of the area he's in front of mirrors what was previously seen nearly exclusively in pink.
The fact that Ryan Gosling's Barbie persona wears underwear branded "Ken," dresses in all-jeans, has bleach blonde hair, and has a strong build quickly gives us a sense of what Ken would look like. It'll be interesting to see whether additional variations of Ken have a similar look to the Barbies and Kens that have been reported to be included in the game.